Story and photos by Kristine A. Wong
This story was the first to break the news that the 2011 Central Coast crab strike had been broken due to an unexpected action by fishermen at San Francisco's Fishermen's Wharf. It was published (along with an accompanying photo gallery) as breaking news on Half Moon Bay Patch on Nov. 28, 2011 and was reprinted on Huffington Post San Francisco.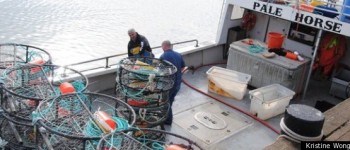 Fishermen in Pillar Point Harbor and ports along the Central Coast have been scrambling to get out to sea today to set their crab pots, despite no known confirmed price agreement with the buyers, according to Half Moon Bay fishermen.
"We don't know how much we're fishing for right now," said Jim Anderson, an unofficial liaison for Half Moon Bay's crab fishermen, as he readied his Allaine boat to head out today from Pillar Point Harbor.
According to Anderson, the strike was broken unexpectedly this morning when San Francisco boats left after some fishermen weren't allowed to attend the price negotiations meeting this morning at Fishermen's Wharf.
"A group of guys weren't allowed to come to the meeting so they said they were going fishing, and when we were in the meeting people we heard the boats leaving," Anderson said.
It is not currently known whether any of the fishermen and the seafood buyers agreed to a price per pound for the crab, Anderson said.
Large-scale seafood buyers could not be reached for more information on whether any price agreement had been met.
The San Francisco boats' actions triggered fishermen in Half Moon Bay and Bodega Bay to head out right away — in order to get a good position for their crab pots and maximize the amount of crabs their boat has a chance of bringing in, according to Half Moon Bay fisherman Bill Webb.
Half Moon Bay fishermen have said that this year's supply of crabs are significantly lower than last year's record-breaking season.
"I'm pissed right now, just like a lot of other fishermen," said Webb via phone as he drove towards Pillar Point Harbor from his home in Antioch so he could ready his boat and head out to sea.
"We voted to hold out for $2.50 the other day [Friday] and now we don't know what we're fishing for. Right now Pillar Point Harbor is half-emptied out and it's derby fishing," he said.
Crab fishermen have been holding out for $2.50 per pound since the commercial season's official start on Nov. 15. They also sat out Thanksgiving, which they say is a big part of their busiest season of the year.
Irene Hurwitz, who fishes with her husband John on the Irene Marie boat docked out of Pillar Point Harbor, said that there were rumors of an agreement for $2.25 a pound between the buyers, but "that's all conjecture now," she said.
Like others, the couple was readying today to set their pots as soon as possible.
"We're not going to really know what the price is until we start bringing the crab in," she said, "which will be late tomorrow at the earliest."
Webb said that he and the other fishermen were upset because the next meeting had been originally scheduled for this Wednesday afternoon, and that if they had agreed to a price then all the fishermen would have agreed to leave Thursday morning so that everyone started the season from an equal position.
Many of the men live in farther-flung areas such as Watsonville and Sacramento, he said, and today had to unexpectedly drop what they were doing and drive over to go out fishing.
"We were supposed to all hold together," Webb said.
"The boats that went out shot our bargaining power," Hurwitz said. "To not go out now means we don't even have a chance to set our [crab] gear."
"It's majorly disappointing to lose a big part of our sales for the year and not to reach an agreement with the buyers," she said.
"And now to be faced with not having any agreement, and yet have no other choice but to go out fishing at this point…it's discouraging," Hurwitz said.