Story and photos by Kristine A. Wong
This piece was the first to break the news that Central Coast fishermen decided to give up fishing for Thanksgiving with the hope of a better price per pound for their catch. It was published (with an accompanying photo gallery) as breaking news on Half Moon Bay Patch on Nov. 21, 2011.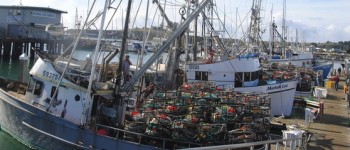 If you want to eat fresh crab this Thanksgiving, you're going to have to catch it yourself.
With the window of opportunity to meet Thanksgiving market demands diminishing quickly due to time and bad weather  — and large-scale buyers still holding tight to a price 50 cents short of the fishermen's call for $2.50 a pound — over 30 boats in Half Moon Bay's Pillar Point Harbor decided this weekend not to head out in time to meet the holiday dinner rush.
"We're the 99 percent waiting for the 1 percent of the fish buyers to share the wealth," said Jim Anderson, an unofficial liaison for the crab fishermen docked out of Pillar Point Harbor.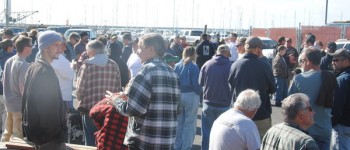 Approximately 100 fishermen gathered at the harbor Saturday in the hopes of working out a solution that would be able to get their boats out during what is traditionally their most lucrative time of year.
Central Coast fishermen have stayed in port since the commercial season's opening nearly a week ago on Nov. 15, saying that the large seafood buyers' offer of $2 a pound doesn't cover the rising costs of fuel, equipment and supplies needed to crab in 2011.
At the meeting, fishermen discussed how they could sell to smaller buyers — such as Morningstar Fisheries located at Pillar Point—  willing to pay $2.50 per pound.
Steve Melz of the Sunrise boat suggested fishing for $2.50 a pound on limits, a strategy which caps how many crabs each boat in the fleet is allowed to catch a day.
Melz said that fishing on limits would prevent the market to be flooded with crabs, a condition which could effectively lower the buying price offered by the larger buyers.
"It's a way to slow the market down and still support the demand for a stream of crabs," he said.
Other fishermen said some boats wouldn't adhere to the limits, which would defeat the purpose of the gentlemen's agreement.
"It's not cost-effective for the larger boats to go out for a smaller amount," said John Hurwitz, whose boat Irene Marie operates out of Pillar Point Harbor. "They would never agree to that."
To settle the matter, Half Moon Bay fisherman Duncan MacLean asked each boat in attendance — over 30 at least — to write on a slip of paper their desired price per pound and whether they supported fishing limits.
Out of 41 votes, 34 wanted to keep their asking price at $2.50 per pound, 3 favored $2.25 and 4 were fine with the $2 offer. Two-thirds opposed fishing limits.
With the decision made, the group made plans to reconvene in another week, giving the men the opportunity to go home for Thanksgiving. MacLean and Anderson told those assembled to leave their contact information if the situation changed before then.
"Over Thanksgiving we're going to have to do something creative," MacLean said.