Story and photos by Kristine A. Wong
Note: This story (with accompanying photo gallery) originally appeared on Half Moon Bay Patch as breaking news on Nov. 16, 2011 and was reprinted on Huffington Post San Francisco.
Dungeness crab for Thanksgiving is still a possibility, but the chances of being able to serve up fresh crab this weekend are diminishing quickly.
Though Tuesday was the official start of the commercial Dungeness crabbing season, Half Moon Bay fishermen and their counterparts along the Central Coast continue to stay in port, holding out for a $2.50 per pound purchase price – a cost which they say will support the rising costs of crabbing in 2011.
"We're locked out because the buyers don't want to pay more than $2 per pound," said Jim Anderson, a fisherman who serves as the unofficial liaison for crab fishermen docked out of Pillar Point Harbor in Half Moon Bay.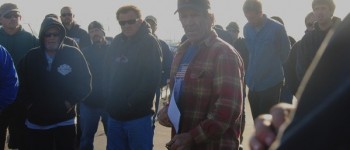 For the second time in one day, over 100 fishermen met at the harbor on Wednesday afternoon to talk about the price negotiations — and agreed that they should hold their ground.
Fishermen in Bodega Bay, San Francisco, Santa Cruz and Moss Landing are doing the same, said Anderson.
Fuel, crab pots and rope have all increased in price, yet the cost of crab per pound has not supported that rise, said Steve Fitz, captain of the Mr. Morgan fishing boat docked out of Pillar Point Harbor.
Earlier Wednesday, fishermen were waiting to see the results of the quality testing of crabs from Bodega Bay, Half Moon Bay and San Francisco. The acceptable range for quality crabs are those with 23 to 25 percent of body weight composed of meat, according to Half Moon Bay fisherman Duncan MacLean.
By mid-afternoon, test results from Bodega Bay, Half Moon Bay and San Francisco all came in within the quality range, MacLean said. While crabs picked from Bodega Bay came in at 24.1 percent, those from Half Moon Bay and San Francisco came in at 24.9 percent.
But despite the positive test results, large-scale buyers in the Bay Area weren't budging beyond $2 a pound as of Wednesday afternoon, MacLean and Anderson said.
"It's a matter of price, not quality," MacLean said.
Large-scale Bay Area seafood buyers, including Caito Fisheries, could not be reached for comment by the time of publication.
With the commercial crabbing season delayed from Mendocino County north due to early body composition reports not within acceptable standards, the Central Coast fishermen feel they're in a good position to hold their ground.
"We have no pressure on us to go out crabbing now, since we can't head north [to crab] once we've set up our gear here," said Pillar Point fisherman Ben Platt, referring to restrictions on making a landing in more than one port within 30 days.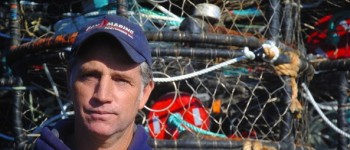 The delay of the northern coast season from its original date of Dec. 1 means that without crab from the Central Coast, there will not be any crab on the market at least until mid-December, said MacLean.
And with so many families relying on crab as a staple — or main dish — in their Thanksgiving dinner, the holiday market is what's likely to put the pressure on the large buyers, Platt said.
"The smaller buyers are willing to pay us $2.50 a pound," said MacLean, who referred to Morningstar Fisheries at Pillar Point Harbor as an example.
But until the larger buyers are willing to take on that price, the fishermen say they will continue to refrain from heading out to sea.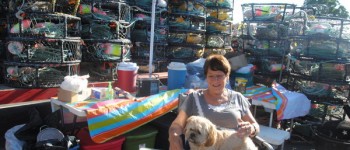 Penny Webb, the wife of Cricket boat fisherman Bill Webb, says the waiting is difficult — especially with a full list of customers who have already placed orders to pick up the first crabs of the season.
She spent Wednesday afternoon sitting in the Pillar Point Harbor parking lot surrounded by crab pots stacked 15 feet high, her dog Rufus sitting at her side.
"We're losing a lot of money right now," she said. "Almost all of our business comes out of the crab and salmon season — it's what we live on," she said.
Throughout these last two days, she said, her phone has been ringing repeatedly with customers anxious about when the crabs will come in.
"People are upset," she said, "but they understand the position we're in."