This story first appeared in Half Moon Bay Patch on Aug. 31, 2011 with the headline 'SHERIFF: 'Multi-Pronged, Balanced' Approach to Combating Gang Activity.'
Story and photos by Kristine A. Wong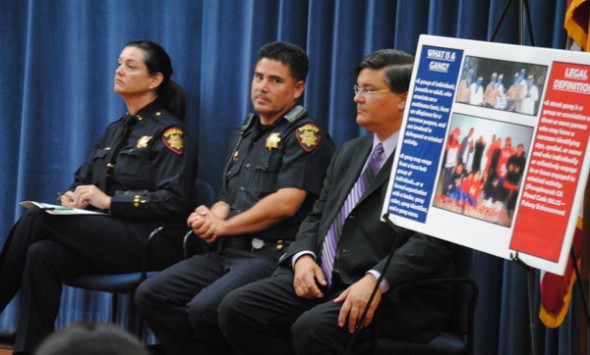 In addition to information about the current investigation regarding the Aug. 14 gang-related shooting in Half Moon Bay, San Mateo County Sheriff Greg Munks and key members of the county's Gang Task Force and School Resource Policing unit spoke to local residents at the town hall meeting Tuesday night about their strategy to combat gang activity and gang violence throughout the city and county.
"Law enforcement is only one aspect," said Munks in opening remarks to a packed crowd of approximately 250 residents at the Ted Adcock Community/Senior Center in Half Moon Bay.
Several factors are at root of the problem in addition to law enforcement, he said, such as socioeconomic conditions, parenting, and education.
"Combating gangs begins in the home with education and awareness," he said. "There's more we can do in afterschool programs on the front end and positive social activities."
"We've tried to find a balance in our approach," he said.
Munks said that the Gang Intelligence Unit of the Sheriff's Office has identified over 2,700 gang members in San Mateo County, which it has broken down into 50 different gangs.
The unit consists of two detectives and two city police officers per participating department throughout the county, according to Munks.
"They ID leaders of the gangs, target them and get them off the street," he said.
In addition, said Sgt. Leo Capovilla, head of the Gang Intelligence Unit and coordinator of the Gang Task Force, the force works with every police chief in the county to deploy assistance in gang-related investigations.
That's why residents may see police cars from other agencies in the area, he said.
A key strategy used by the Sheriff's Office in an attempt to keep them off the street is diversion. Housed in the juvenile services section of the Probation Department, the agency's Diversion Program focuses on providing youth on probation with rehabilitative services in place of punative measures.
"We want to get the violent ones, the leaders, the recruits, and young kids in positive activities," Munks said.
School and education were also identified as important parts of the prevention equation.
Sheriff's deputies Alfredo Gudino and Mike Smyser, members of the Community Resource School Policing Unit, spoke about the work they do at schools in Half Moon Bay and the unincorporated Coastside from Montara to Pescadero.
The goal, Smyser said, was to establish not just a presence at campuses in the Cabrillo Unified School District, but to provide a positive first interaction with law enforcement as a foundation for youth to build upon as they get older.
Gudino and Smyser said they keep school principals abreast of anything going on among the student population that might jeopardize safety on campus, as well as notify them if they feel a law enforcement-related problem arises among students.
Youth as young as age 13, or seventh grade, are being brought into local gangs, Gudino said.
Half Moon Bay's main street gangs are the Norteños and the Sureños, he said, who are known respectively as the Media Luna Norteños and the Coastside Locos. According to Gudino, the Norteños have organized themselves into two subsets: the Moonridge Outlaws at the Moonridge Housing Complex and the Main Street Project at the Main Street Housing Complex.
Gudino also gave a presentation on how to read gang graffiti, and spoke about specific gang attire to watch out for.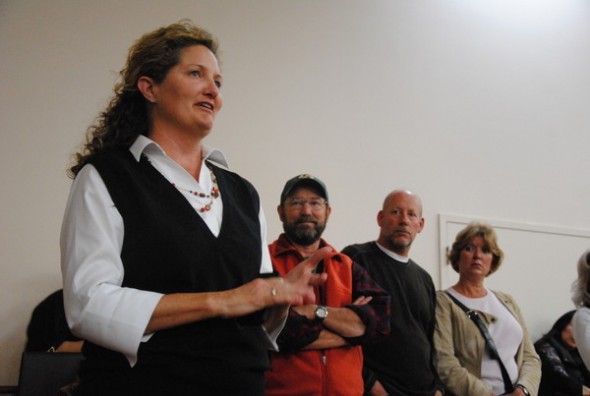 Mary Streshly, Half Moon Bay High School principal, said that the school is increasing safety on campus. Part of that effort includes surveillance cameras, which Streshly acknowledged has been controversial among students and the Half Moon Bay community.
Smyser runs a program called C.A.R.O.N. (Community Alliance to Revitalize Our Neighborhoods), which he said had a primary goal of offering education and support programs for the immigrant community. C.A.R.O.N. offers an 8-week citizens' academy that focuses on law enforcement and organizing neighborhood watch programs, as well as parenting classes and educational workshops about gangs.
Another program designed to provide positive interactions between children and law enforcement is the Sheriff's Activity League (SAL). Recent activities this summer include the Play Streets program at Moonridge and Pillar Ridge, as well as a series of family movie nights.
"The main motive is to build a bond with cops and kids," said Barbara Bonilla, SAL Director.
Munks emphasized that though funding is tight, he has a commitment to continue supporting youth programs, programs addressing gang issues and "core safety programs" throughout the county.
Still, he added that with state prisoner realignment coming down the pipeline — which will bring an influx of prisoners from state to county jails due to overcrowding — his department would have to continue to be more creative in maintaining funding for the Gang Task Force and other related programs.
Though Munks said his "number one" responsibility when it came to gangs was to protect the public, he emphasized that his department couldn't just "arrest our way out of it," citing lack of funding and a belief in using positive social programs to address the problem as part of his agency's multi-pronged approach.
Reactions to the meeting were positive by residents and elected officials.
"As one step in the process, I thought the city and our law enforcement did their best to answer all questions," said Half Moon Bay resident George Muteff.
"It was helpful to actually see all the folks the county has on this — see the faces, get the names, hear about what resources are available and what is being utilized," he said.
Councilmember Rick Kowalczyk was also pleased. "This was an excellent turnout and great community engagement," he said, adding that the meeting was a step forward in tampering gang activity in Half Moon Bay.
"It's the first of many community interactions to come," he said.