This article was published on Half Moon Bay Patch on March 18, 2011.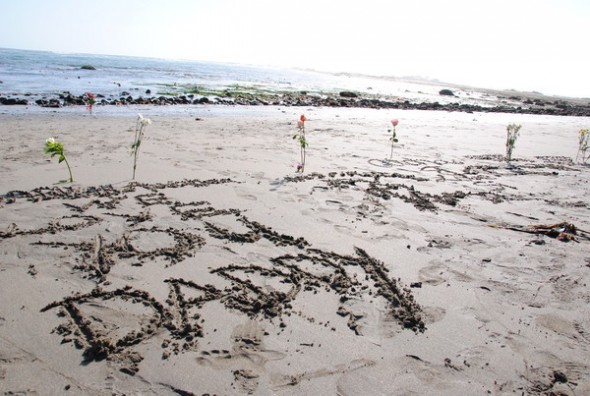 A day after Sion Milosky died surfing the powerful Mavericks surf break on Wednesday evening, he was remembered by his family and friends on the beach at Mavericks with a line of hearfelt messages etched in sand, each accompanied by flowers.
"WE LOVE YOU DADDY," read one message written to Milosky which appeared to be from his two daughters. Delicate pink roses marked the top of another message which appeared to be from his wife, reading "To the Love of my Life forever." The letter "o" in the word "love" was written as a heart, and the names of the couple written inside a heart at the bottom.
Some messages referred to Milosky's passion for surfing big waves that he had turned into a lifestyle in his home state of Hawaii: "SION/THANK YOU FOR SHOWING US THE RECIPE OF LIFE!" and "INSPIRATION/YOU DA MAN."
And a few others included in their messages to Milosky with the simple — yet complex in meaning — Hawaiian word "Aloha."
Milosky's wife went out to the break located less than a mile past Pillar Point Harbor on a jet ski yesterday and saw where her husband spent his last moments before drowning after a fatal wipeout that witnesses said took place at approximately 6:30 p.m.
Milosky was found tethered to his surfboard floating face down about twenty minutes later, according to the San Mateo County Sheriff's Office, which handled the emergency dispatch call for aid at 6:50 p.m.
Three emergency firefighters/paramedics arrived to find Milosky receiving medical care from other surfers, the Sheriff's Office reported. After the crew performed advanced CPR on Milosky, he was transported to the emergency room at Seton Medical Center Coastside in Moss Beach, where he was pronounced dead at 7:46 p.m. by the physician on duty, according to the Sheriff's Office.

Milosky's misfortune on Wednesday night didn't stop surfers from hitting the waves at Mavericks. About six to eight surfers were out surfing the break at midafternoon yesterday and were being watched over by one on a jet ski, according to a few observers who had climbed up on the bluffs at the edge of the beach during low tide to watch.
Although the surfers were barely visible to the naked eye from the bluffs, Kathe Goria-Hendrickson was able to amplify her view with binoculars.
"I've seen a couple of nice rides on the waves — and I've also seen a lot of surfboards up in the air," she said.
Goria-Hendrickson, a resident of Clipper Mills, had wedged herself into a tight vertical space on the edge of a bluff with a pair of binoculars with her golden retriever dog Oso sitting patiently next to her. She had been there for about an hour, she said.
"It's scary because they're so huge," she said, referring to the size of the waves, which dwarfed the surfers in comparison.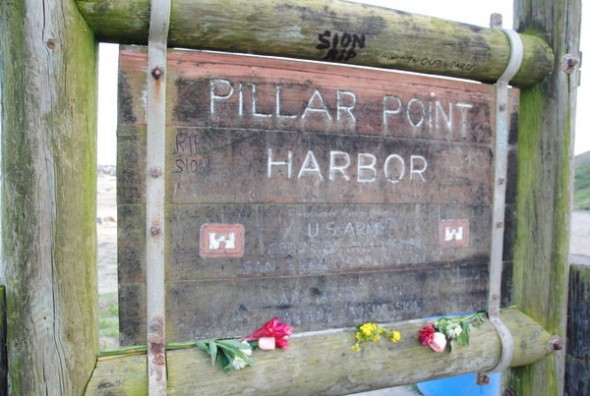 Back out at the entrance to Mavericks, Milosky had also been memorialized on the wooden sign noting the beach's location at Pillar Point Harbor, with "RIP SION" and "ALWAYS IN OUR HEARTS" carved into the top and left hand side of the sign. Flowers had been placed at the sign's bottom ledge.
At Mavericks, Milosky will not be alone: his remembrances are a few steps away from a rock-and-shell memorial erected for Mark Foo, the first-known Mavericks casualty and another Hawaiian. Foo died surfing Mavericks in December 1994.
A memorial fund has been set up for Milosky's wife and two daughters by Vans, the company which gave him $25,000 last December for winning the Project North Shore Underground contest co-sponsored with Surfing Magazine. Donations can be made at any Bank of Hawaii branch or through PayPal.
Volcom has also set up a memorial fund for Milosky's family. Donations can be sent via PayPal here.
Milosky reportedly funded his trip to Half Moon Bay using some of the money he won from the North Shore contest, which was designated to be used as a surfing travel fund.
Photos by Kristine A. Wong