This story was published on Oct. 29, 2010 on Half Moon Bay Patch. It won a first-place prize in the San Francisco Peninsula Press Club's 2011 Greater Bay Area Journalism Awards competition for the "Feature Story of a Light Nature" in the Broadband/Web category.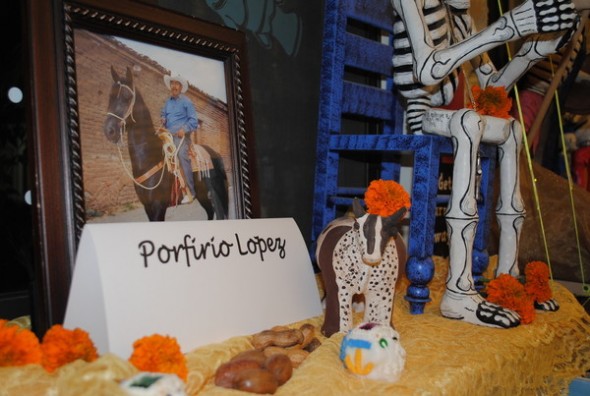 Porfirio Lopez was a Mexican cowboy.
"He loved cows, horses, and family," said Lily Monroy, recalling her father-in-law as she stood next to the altar dedicated to Lopez on display at tonight's Día de los Muertos celebration at the Half Moon Bay Library. At the center of the altar was a photo of Lopez sitting tall on a horse, cowboy hat intact.
From the town of Cocula in Jalisco state, Lopez owned a farm, and was a father to 16 children (only 8 survived). He passed away 5 years ago, but his son and daughter-in-law still miss him very much. "He was very hardworking," Monroy recalled. "He was a wonderful father and grandfather for us and our kids."
Lopez's photo was accompanied by a stout brown and cream-colored spotted cow, symbolic of his love for the animals he took care of. Monroy, originally from the state of Oaxaca, had placed a small mound of shiny brown pecans next to a similar pile of peanuts at the base of the altar. Bright orange cempasúchil (marigolds) flanked both ends, and skeleton figures watched over it all.
The peanuts and pecans were a contribution from the Oaxacan tradition, Monroy said. People from Jalisco, she said, do not traditionally include food at altars.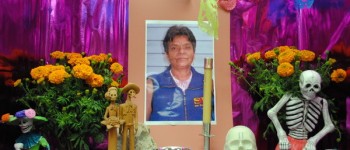 Lopez's altar was just one of ten on display at the library. Along with a photo, skeletons, and marigolds, each altar was filled with mementos and objects of personal significance to the deceased. In preparation for tonight's event, Armando Ramirez, Community Services Librarian, invited several members of the community to create altars in honor of their loved ones who have passed on.
The altar dedicated to H. Clair McMahon had special meaning for Ramirez, who put it together in collaboration with McMahon's daughter Laurie. McMahon, a teacher at El Granada Elementary School, explained how it was only by chance that Ramirez discovered that her father was the man who helped him get through difficult times at Westview School in Pacifica, when he first arrived in the US from Mexico.
"I'd known Armando for 12 years," she said, "and a year ago I pulled out my library card along with an old photo of my dad," she said. "When Armando saw the photo, he started to cry," she said.
Ramirez told McMahon that it was her father, the principal at Westview School, who took him under his wing and helped him adjust to attending school when fellow students teased him for having an accent. Coincidentally, Ramirez also unknowingly got to know McMahon's mother when the two collaborated on a Bilingual Storytime project at the Millbrae Library years ago.
Under a smiling portrait of her dad, McMahon had placed a box of Sees candy, a Glenn Miller CD, and a black and white photo of Westview School where he was principal, along with a mug of his college alma mater. Ramirez added the traditional skeleton figures and orange marigolds, along with a tall and slender candle.
The younger generation was represented in full as well. The evening began with a bilingual reading of the children's book Día de los Muertos by Bob Barrer. Rosa Martinez, Senior Library Assistant at the Half Moon Bay Library, read each page in English with Martina Tello, Community Program Specialist for the San Mateo County Library, reading the same page in Spanish immediately afterwards.
Next, Cunha Intermediate School's drama class took the stage with their rendition of the bilingual book Ghost Wings (titled El Circito Magico in Spanish) by Barbara M. Joose, a story set in a Mexican forest where butterflies like to fly. The class read the story and acted it out for the standing-room only crowd filled with proud parents and family members.
After the play finished, it was time for pan de muerto (baked sweet bread of the dead, shaped to represent the deceased) and champurrado, a steaming drink of corn, chocolate, cinnamon and sugar made by Monroy and her sister Elda.
Over the food and drink, the children played and the adults reminisced. The deceased were there, too, looking out from their photos to the mix of mothers, fathers, sons, and daughters.
It was a night where generations past and present came together.

Photos by Kristine A. Wong