This story was published on Half Moon Bay Patch on Oct. 16, 2010. It won a second-place prize in the San Francisco Peninsula's 2011 Greater Bay Area Journalism Awards competition for the "Headline" category of the Broadband/Web division.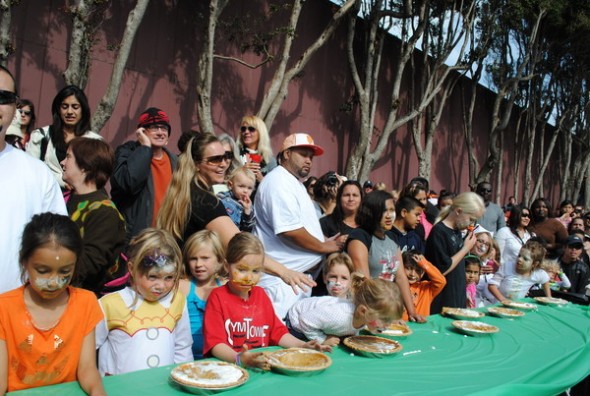 To many, no matter their age, it's the most exciting part of Half Moon Bay's Pumpkin Festival: the pie-eating contest. Where else could one have a legitimate excuse to dive (headfirst) into an entire pumpkin pie, eat it as fast as you can, all with your hands tied behind your back? To make the contest even better, you're supposed to get as messy as possible in the process.
During this weekend's festival, there are four opportunities to do just that. Two of them happened earlier this afternoon, starting at 2 pm at the Bank of America parking lot off Main Street, otherwise known as the festival's "Family Fun Zone."
The first contest was for those age 11 and younger.
When emcee Michael Lederman of the Coastal Repertory Theater gave the emphatic go-ahead to the first group of contestants, a frenzied round of eating and cheering ensued.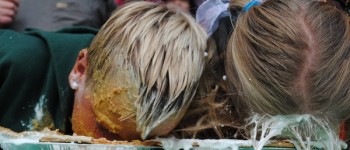 Ron Root, one of three contest judges and this year's Annual Pumpkin Weigh-Off winner, said that the pie-eaters generally followed one of two strategies: eating delicate bites one at a time, or letting it all hang out: "The smaller kids are very neat — they don't make a mess and they actually eat it. Then there are some that just rub their face in it and make as much of a mess as they can."
When time was called, judges selected the top three contestants they thought were the messiest and who had eaten the most of their pie. Joining Root as a judge was Cameron Palmer, owner of Cameron's Restaurant and Inn, and Michael Langfelder, a clerk at Safeway, whose company provided the pies.
In the end, the contestant in the age 11-and-under competition who followed the strategy of making as much of a mess as he could was first-time competitor Michael Whitlatch, 10, of Half Moon Bay. Whitlatch won the top prize, and it was easy to see why: burying his entire face into the pie during the duration of the competition had left smeared globs of pumpkin pie on his face and sweatshirt. The front strands of his hair were coated with a generous helping, and the top portion of one of his ears was spread with pumpkin as well.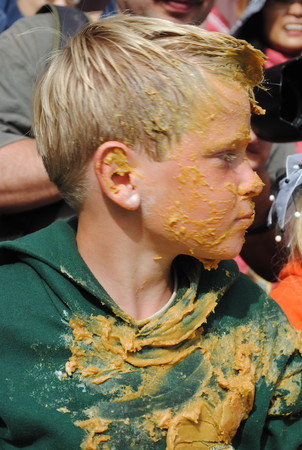 "It was an amazing experience," he said, shortly after he accepted his golden ribbon and descended the stage. "I just dumped my face in it and rubbed my head in it." His father stepped in promptly with a roll of paper towels to clean his face, hair, and ears.
Jacquelyn Dellins, 9, also of Half Moon Bay, came in second. "I made blowing noises into my pie," she said of her strategy to win the messiest award, "so that it would get all over me."
Sean Kennedy, 8, of Half Moon Bay, came in third.
"These kids make excellent human piranhas when it comes to eating pie," Langfelder said, smiling.
Sound fun? There's two more chances tomorrow at the same time and same place: 2 pm (age 11 and under) and 2:15 pm (age 12 and up), Bank of America parking lot on Main Street. Get there early if you want to enter the contest.
Photos by Kristine A. Wong